Challenges to the News-Information-Democracy Narrative
March 28, 2019 @ 8:00 am

-

5:00 pm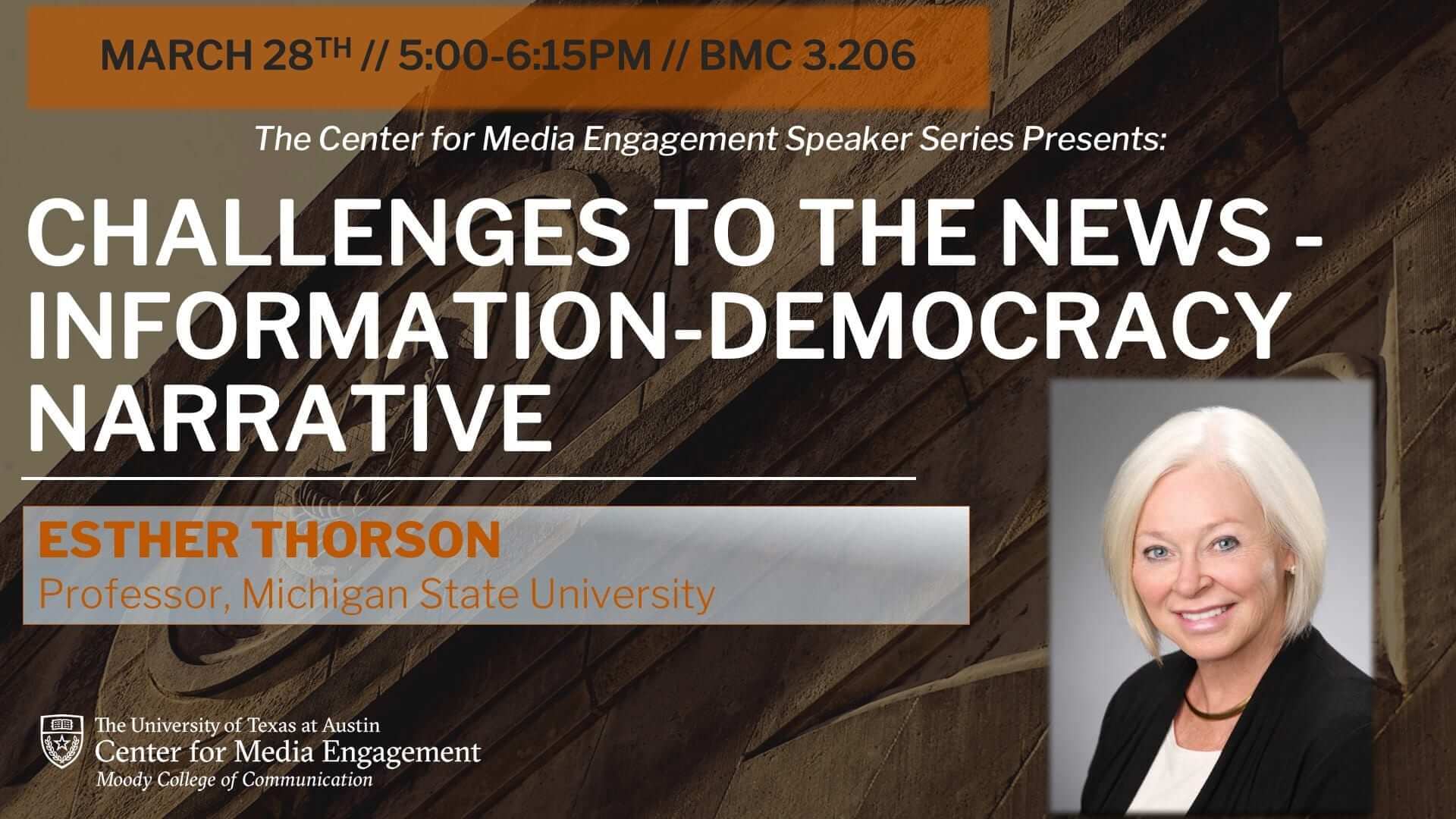 Dr. Esther Thorson (Michigan State University) // March 28th, 2019 // 5:00pm-6:15pm // Belo Center for New Media (BMC) 3.206
The Center for Media Engagement Speaker Series promotes discussion about critical issues in journalism, social technology, and other communication media. We feature renowned scholars, experts, and professionals to share their research and perspectives on these topics.
There is much research that assumes traditional news use leads to knowledgeable citizens who actively participate in their democracy. Recent work in partnership with the Florida Times-Union newspaper (Jacksonville) has led Dr. Thorson to question whether "news information" is critical to democratic participation, and explore other routes to that participation. She welcomes your insights into the models of participation she is presently exploring.
Professor Thorson joined the MSU faculty in fall, 2016. During the prior 23 years she was Associate Dean for Graduate Studies and Research Director at the Reynolds Journalism Institute at the Missouri School of Journalism. Thorson is one of the most cited scholars in advertising, and the Interactive Advertising Model (with Shelly Rodgers, 2000; 2017) is one of the most-cited theory articles in advertising. The second edition of their edited book on internet advertising (Rogers & Thorson, Digital Advertising) appeared in 2017. The third edition of their edited advertising theory text (Rogers & Thorson, Theories of Advertising) was published in 2017.
Thorson also studies the relationships between news consumption and political participation. One of the foci of this work is how youth learn about and become involved in politics. Her co-edited book published in 2016 summarizes much of this work (Thorson, Mitchell, & Shah, Political socialization in a media-saturated world). Thorson is a Fellow of the American Academy of Advertising and of the International Communication Association. In 2017 she was awarded AEJMC's Eleanor Blum Distinguished Service to Research Award and this year will receive the Paul J. Deutschmann Award for Excellence in Research.